Microwave
The microwave allows you to cook any two items that you have. Combine the two ingredients, cook them for the exact time needed, you may have the recipe for a brand new, Gourmet Microwave Food.

The Microwave Quests ask for Cooking Utensils that you can win randomly from completing Borak's Brew quests. Every time you complete a quest asking for cooking utensils, you will earn cooking time. The more quests you complete, the more cooking time you will earn and the more you can use the Microwave to test recipes.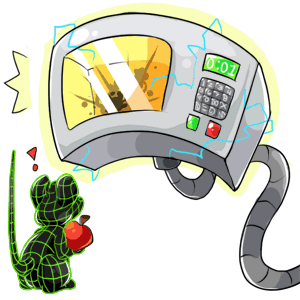 Each recipe will have a required cooking time of between 1 and 60 seconds. When you find the correct recipe, your two ingredients will become a new gourmet food. Otherwise, your microwave cooking time will go down and you will have to try again. Once the recipe has been found, it can be shared with other players.
If you discover any new Microwave Recipes which are not listed in this guide, please mail Shaggy with the information so that the guide can be updated. Thank you.
Gourmet Food
Item Name
Ingredient 1
Ingredient 2
Cooking Time
American Hotdog
American Murfin Photo
Ketchup Hotdog
7 seconds
Angelic Pear
Guardian Book
Pear
10 seconds
Bacon Book
Bound Purple Book
Bacon Cheeseburger
25 seconds
Flute
Bamboo Shoot
Flute
44 seconds
Bleach Smoothie
Bleach
Vanilla Ice Cream
59 seconds
Brie Mine Candy Heart
Brie
Be Mine Candy Heart
36 seconds
Cheeky Omelette
?
?
? seconds
Cheese and Tomato Sandwich
?
?
? seconds
Chocolate Almond Tentacle
Chocolate Almond Cone
Ushunda Tentacle
4 seconds
Cola Float
Aqua Ice Cream
Cola Gummy Slug
9 seconds
Cool Beans Stamp
Red Bean
Cooling Fan
24 seconds
Cracked Green Gumball
Blue Ike Cracker
Yellow Gumball
32 seconds
Pink Cracked Gumball
?
? seconds
Cracked Yellow Gumball
Protein Gumball
Yellow Feliz Cracker
23 seconds
Drumsticks
Drum
Premium Stick
51 seconds
Eau de Roche
?
?
? seconds
Eau de Stick
?
?
? seconds
Eye Egg
Walee Eye Charm
Glowing Breakfast Egg
26 seconds
Fatty Balloon
Fatty
Yellow Balloon
34 seconds
Flesh Flower
White Daisy
Sirloin Steak
41 seconds
Foot Fruit
Severed Foot
Fruity Flakes
40 seconds
Galaxy Bar
Chocolate
Neon Purple Face Makeup Dye
1 second
Garlic Sausages
Garlic Powder
Veal Sausages
58 Seconds
Ham and Cheese Sandwich
Sliced Smoked Ham
Sliced Crusty Brown Bread
18 seconds
Juicy Peach Boot
Furry Boots
Giant Peach
38 seconds
Lime Float
Lime Candy Blood
Orange Chocolate Soft Serve
3 seconds
Meat Pencil
Sliced Roast Beef
Doyle Pencil
20 seconds
Merant
Ant
Jar of Mermaid Tail
9 seconds
Monster Burger
Chicken Burger
Sewer Monster Trading Card
31 seconds
Mystery Meat
Blooble
Ground Beef
13 seconds
p
Orlando Bloom
?
?
? seconds
Pear Ukulele
Pear
Ukulele
19 seconds
Pizza Bagel
Ham Pizza
Salty Bagel
54 seconds
Polka Dot Meat
Cauldron
Joint of Ham
57 seconds
Polka Dot Scarf
Polka Dot Babydoll
Hoodie Scarf
55 seconds
Radioactive Fish
Fake Radioactive Costume
Fish in Foil
19 seconds
Raspberry Float
Giant Raspberry
Vanilla Ice Cream
20 seconds
Skyscraper Burger
?
?
? seconds
Snowman Meringue
?
?
? seconds
Soap Flavoured Gummy
Blue Soap
Magical Gummy Stars
51 seconds
Spade Shirt
Vest
Stop Trying Candy Spade
27 seconds
Spaghetti Ice Cream
Spaghetti and Meatballs
Vanilla Ice Cream Cone
3 seconds
Stone Apple
Stone Cupcake
Giant Green Apple
53 seconds
Strawberry Snowman Meringue
Lati Ice Sculpture
Melted Rose Snowman Candle
42 seconds
Striped Arm Warmers
Black Striped Worm
Arm Plaster Cast
48 seconds
Super Stacker Burger
?
?
? seconds
Tower Burger
Double cheeseburger
World Famous Skyscrapers
53 seconds
Triangle Swiss Roll
Triangle
Brown rolls
8 seconds
Wooden Carrot
Glowing Wooden Egg
Carrot
30 seconds
Yunicorn Donut
Yuni Horn
Fresh Glazed Strawberry Donut
60 seconds