List of Maradan Jobs and FAQs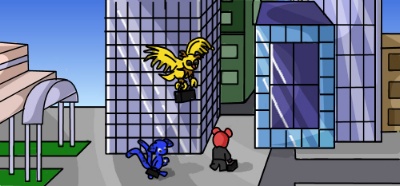 List of Pet Jobs and Promotions
Click on each pet job to see a list of requirements for each promotion.
| | | | | | |
| --- | --- | --- | --- | --- | --- |
| ACTOR | ARCHITECT | ASTRONAUT | ATHLETE | BANKER | BUSINESSMAN |
| CHEF | CLOWN | DOCTOR | FIRE FIGHTER | HACKER | JOURNALIST |
| MECHANIC | MODEL | POLICE OFFICER | POLITICIAN | POP STAR | PROGRAMMER |
| SCIENTIST | SOLDIER | SPY | TEACHER | THIEF | VETINARIAN |
PERKS FOR LIFE GAINED AT JOB LEVEL 20
| | |
| --- | --- |
| Double Magazines | Acresss, Popstar |
| Double Newspapers | Astronaut, Journalist |
| Double Plates | Athlete, Chef |
| Double Photos | Model, Policeman |
| Free Hospital | Doctor, Veterinarian |
| Free Hotel | Politician, Businessman |
| No School Fees | Architect, Scientist, Teacher |
| Free Dental | Mechanic, Soldier |
| 2 for 1 Raffle Tickets | Banker, Hacker, Programmer |
| No Circus Tickets | Clown, Fireman |
| Half Price Prison | Spy, Thief |
FAQs (Frequently Asked Questions)
Where is it?
The job centre is located here, in the City.

What is it?
You must know what a job is. :-P In real life, people have to work to get money. In Marada it is no different. It is, simply put, a fun way of gaining some extra marapoints.

How do I get a job?
To get a job, you must first match your pet's stats with the qualifications, which you can find in the table above this page. Just like in real life, you must go to school to get good grades, so you get a great job! It does mean spending your MP on school supplies, crystals, or books, cd's and dvd's - depending on the job's qualifications. You will either need to send your pet to school and university and train in the gym and elite gym.

How much does it pay? Is it worth my effort?
If you're looking for a REALLY great pay-out, no. It is wise to try and get your pet's stats up, though, as everything on the site is kind of tied together. Every item has its use, and every stat does, too, in the end... So, in short, it may not seem worthwile now, but it might be wise to train your pets regardless, and it is fun to have smart and strong pets. There are also trophies to gain for your pet's profile.

What do I do after I get a job?
After your pet has its job you can collect wages every day by visiting the Job Centre.

Does it pay me automatically?
No, you must collect your pet's income yourself, every day. However you may collect wages for all your pets that have jobs with one click.

How many jobs are there?
Look at the top of this page for all of the jobs in Marada!

IMPORTANT: Your pet can only have one job at a time, so if you want a better job than the one you have now, you must first resign your current one. Click on the resign button of the job on your pet's lookup if you wish to resign.