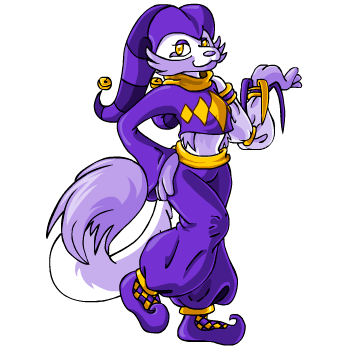 Jester
---
The Jester worked for King Baspinar in his castle, but since the war she has been out of a job. She now works in Slater Park, entertaining the crowds of visitors with her tricks. Her most popular trick is plate spinning!
Jester needs your help. She wants to encourage everyone in Marada to collect plates for their own plate collection. She has 30 different missions for you, each harder than the last. If you fail to have any of the plates she asks for in your collection, you will have to start again. If you manage to reach level 30, you will be able to choose any Gourmet Food that a pet of your choice is missing from Gourmet Food list - it will be added straight to your pet's food list.
---
Prizes
A total of 355,600 MP, 11 Items, 2 Avatars and 1 Trading Card are available from this mission.


Level 1

Jester Potato
Level 2

100 MP
Level 3

Jester Playing Cards
Level 4

200 MP
Level 5

250 MP
Level 6

Clown Contact Lenses
Level 7

600 MP
Level 8

Jester
Level 9

850 MP
Level 10

1,000 MP
Level 11

1,100 MP
Level 12

Jester Pearl
Level 13

1,200 MP
Level 14

Secrets of the Hat Book
Level 15

1,300 MP
Level 16

1,500 MP
Level 17

Jester Shield
Level 18

2,500 MP
Level 19

5,000 MP
Level 20

10,000 MP
Level 21

Jester Plushie
Level 22

25,000 MP
Level 23

30,000 MP
Level 24

Male Jester Costume
Level 25

Jester Stamp
Level 26

50,000 MP
Level 27

Female Jester Costume
Level 28

100,000 MP
Level 29

125,000 MP
Level 30
You can feed any gourmet food to your pet.
---
Avatars
Avatar Available

Jester Avatar awarded after completing level 30.
---
Trading Cards

You may randomly receive a trading card from completing any level.

Trading Card Available

Jester Trading Card